X Congreso Internacional "Cerâmica Medieval no Mediterrâneo" (Octubre 2012)
20/12/11 .- THARG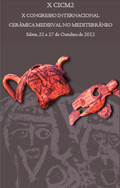 X CICM2
INTERNATIONAL CONGRESS
MEDIEVAL POTTERY IN THE MEDITERRANEAN
Silves, 22nd – 27th October 2012

As in previous conferences, themes are indicated around which proposals for papers are organized. Guidelines are supplied to researchers in order to link the public discussion and the parameters of reference, thus enabling the development of ceramic studies in a significant way.
Some of the themes from previous meetings have been kept and others have been proposed. The fact that this congress will take place in one of the most extreme points of the Mediterranean cultural area allows us, on this occasion, to intensify the relationship between the Mediterranean world and the Atlantic, especially with Northern Europe but also to deepen knowledge of the influence that, later on in history, the Mediterranean would have on America.
Furthermore, technological aspects are a basic theme which should continue to be researched especially the relationship between the organization of production, innovation and transmission of techniques and furthermore, how this fits into a socio-economic perspective.
Interest is maintained in questions relating to the distribution and consumption of ceramics, a fundamental theme being the study of the phenomena of trade and exchange between regions and their implications in economic history. Continuity will be given to areas of investigation opened at the last congress, those relating both to the social context of ceramic consumption, its ideological and economic components and to their functions, as well as the relationship to the places in which they were used.
Following more traditional lines, the session devoted to new discoveries will be maintained. However, to avoid this theme only bringing together research of local interest we would like the new aspect to be found in analyses of a taxonomic, functional nature or of a typological or chronological character thus favouring territories that have been insufficiently represented until now

THEMES

•The Mediterranean and the Atlantic
The aim is to promote an analysis of the relationship between the pottery of the Mediterranean and the Atlantic area, and will include both studies on the contacts that existed between the Mediterranean and Northern Europe, as well as studies on Mediterranean influences on America in the post Medieval period.

•The Development and transfer of techniques
This session will be devoted to papers focused exclusively on technological aspects of different ceramic productions, both the mechanisms of transmission and the organization of systems of production, spatial analysis of the workshops and typologies of the kilns.

•Pottery and Commerce
This theme will bring together papers that deal with pottery distribution networks and systems, their economic repercussions and their socio-cultural consequences seen from a diachronic perspective.

•Pottery within its context
This theme aims to analyse the relationship between pottery and its physical and social contexts of consumption and use, thus seeing the development of these factors throughout time with the intent of defining economic capacities and social identities.

•Pottery and Food
With this theme we intend to benefit the study of ceramic objects as related to their use in the preparation, storage and consumption of food, paying special attention to the acquisition of pottery manufacture techniques linked to their culinary uses and to the need to preserve food.

•New discoveries
This theme brings together contributions of recent ceramic discoveries, favouring those whose results are especially significant from the point of view of typology or chronology or connected with regions which still have not been studied widely.

X CICM2
X CONGRESSO INTERNACIONAL
CERÂMICA MEDIEVAL NO MEDITERRÂNEO
Silves, 22 a 27 de Outubro de 2012

Tal como sucedeu com os congressos anteriores, são indicados os temas em torno dos quais serão organizadas as propostas de comunicação. Trata-se de fornecer aos investigadores orientações que permitam articular a discussão pública e os parâmetros de referência que ajudem a desenvolver significativamente os estudos cerâmicos.
Mantêm-se alguns dos temas presentes em anteriores encontros e são propostos outros. A realização deste congresso num dos extremos da área cultural mediterrânea permite-nos intensificar nesta edição, as relações do mundo mediterrâneo com o Atlântico, especialmente com o Norte da Europa, mas também melhorar o conhecimento das influências que, posteriormente, o Mediterrâneo vai exercer sobre a América.
Os aspectos tecnológicos constituem ainda temas fundamentais sobre os quais deve continuar a recair a pesquisa, especialmente no que se refere à relação entre a organização da produção, a inovação e a transmissão das técnicas e, ainda o seu enquadramento socioeconómico.
Mantém-se o interesse pelas questões relacionadas com a distribuição e consumo das cerâmicas, constituindo um tema fundamental o estudo dos fenómenos de comércio e intercâmbio entre regiões e as suas implicações na história económica. Dar-se-á, continuidade às linhas de investigação abertas no último congresso relativas tanto ao contexto social do consumo das cerâmicas, nos seus componentes ideológicos e económicos, como às suas funções e à relação com os espaços em que se usaram.
Numa linha mais tradicional, mantém-se a sessão consagrada às novas descobertas. No entanto, para evitar que este tema agrupe, apenas, investigações de interesse local, desejaríamos que a novidade residisse em análises de carácter taxonómico e funcional ou de carácter tipológico ou cronológico, privilegiando os territórios que até hoje foram pouco representados.

TEMAS

- O Mediterrâneo e o Atlântico
Este tema pretende promover a análise das relações entre as cerâmicas do Mediterrâneo e do espaço atlântico, abrangendo tanto os estudos sobre os contactos existentes entre o Mediterrâneo e o Norte da Europa, como as influências mediterrâneas na América no período pós-medieval.

-Evolução e transferência das técnicas
Esta sessão estará consagrada às comunicações centradas nos aspectos exclusivamente tecnológicos das diferentes produções cerâmicas, tanto dos mecanismos de transmissão à organização dos sistemas de produção, análise espacial das oficinas, às tipologias de fornos.

-Cerâmica e comércio
Este tema reunirá as comunicações que se debrucem sobre as redes e sistemas de distribuição das cerâmicas, as suas repercussões económicas e as suas consequências socioculturais numa perspectiva diacrónica.

-As cerâmicas no seu contexto
Este tema pretende analisar as relações entre a cerâmica e os seus contextos físicos e sociais de consumo e utilização, assim como a evolução destes factores ao longo do tempo no intuito de definir capacidades económicas e identidades sociais.

-Cerâmica e alimentação
Neste tema pretendemos privilegiar o estudo dos objectos cerâmicos relativamente à sua utilização na confecção, armazenamento e consumo dos alimentos, dando especial atenção à adequação das técnicas de fabrico da cerâmica aos usos culinários e às necessidades de conservação dos alimentos.

-Novas descobertas
Este tema reúne os contributos das recentes descobertas no âmbito das cerâmicas, privilegiando aquelas cujos resultados sejam especialmente significativos do ponto de vista tipológico ou cronológico, ou concernentes a regiões ainda pouco estudadas.
Noticias relacionadas
Comenta la noticia desde Facebook
Comentarios
No hay comentarios.
Para escribir un comentario es necesario entrar (si ya es usuario registrado) o registrarse