CfP: Advances in Environmental Archaeology in the Post-Classical Mediterranean World (EAA Barcelona,
22/1/18 .- THARG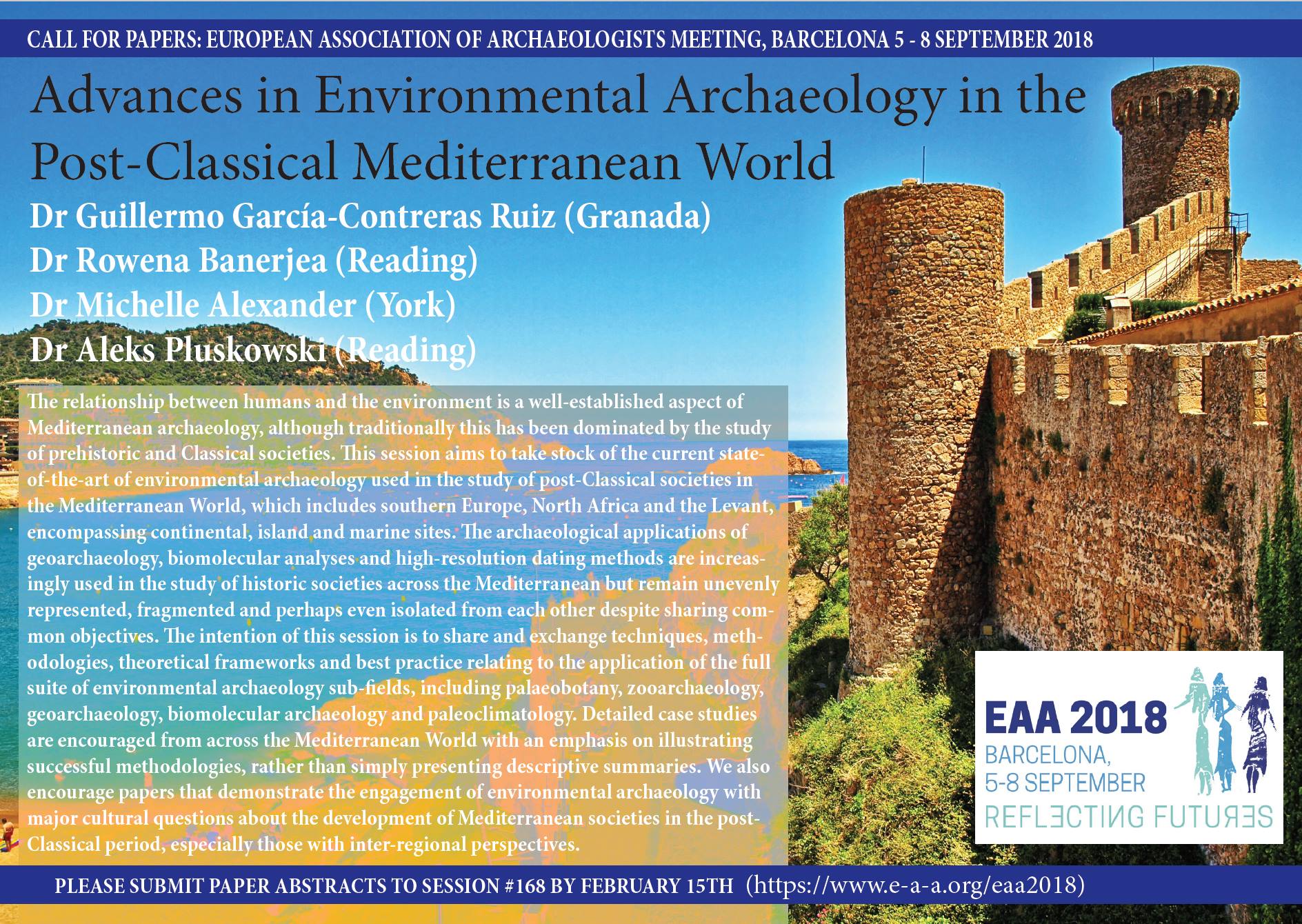 Call for papers:

Advances in Environmental Archaeology in the Post-Classical Mediterranean World

Session into the European Association of Archaeologists Conference, Barcelona (5-8 September 2018)

Deadline for abstract submission: 15th February 2018


Session: #168
Theme: Theories and methods in archaeological sciences
Session format: Session, made up of a combination of papers, max. 15 minutes each
Title: Advances in Environmental Archaeology in the Post-Classical Mediterranean World

Content: The relationship between humans and the environment is a well-established aspect of Mediterranean archaeology, although traditionally this has been dominated by the study of prehistoric and Classical societies. This session aims to take stock of the current state-of-the-art of environmental archaeology used in the study of post-Classical societies in the Mediterranean World, which includes southern Europe, North Africa and the Levant, encompassing continental, island and marine sites. The archaeological applications of geoarchaeology, biomolecular analyses and high-resolution dating methods are increasingly used in the study of historic societies across the Mediterranean but remain unevenly represented, fragmented and perhaps even isolated from each other despite sharing common objectives. The intention of this session is to share and exchange techniques, methodologies, theoretical frameworks and best practice relating to the application of the full suite of environmental archaeology sub-fields, including palaeobotany, zooarchaeology, geoarchaeology, biomolecular archaeology and paleoclimatology. Detailed case studies are encouraged from across the Mediterranean World with an emphasis on illustrating successful methodologies, rather than simply presenting descriptive summaries. We also encourage papers that demonstrate the engagement of environmental archaeology with major cultural questions about the development of Mediterranean societies in the post-Classical period, especially those with inter-regional perspectives.

Keywords: Environmental archaeology; Palaeoecology; Mediterranean; Post-Classical

Organisers
Main organiser:
Dr. Aleks Pluskowski (United Kingdom, University of Reading)
Co-organisers:
Dr Rowena Banerjea (United Kingdom, University of Reading)
Dr Guillermo García Contreras-Ruiz (Spain, Universidad de Granada)
Dr Michelle Alexander (United Kingdom, University of York)

This session is part of the Annual Meeting of the European Association of Archaeologist (EAA) which will take place at Barcelona, from 5 to 8 September 2018.

Please, submit abstracts (250 words aprox.) via the official EAA-website https://www.e-a-a.org/EAA2018/ The deadline is 15th February 2018
Noticias relacionadas
Comenta la noticia desde Facebook
Comentarios
No hay comentarios.
Para escribir un comentario es necesario entrar (si ya es usuario registrado) o registrarse