Amateur metal detectorist to be British Museum star after finding priceless relic mistaken for '
24/9/15 .- http://www.telegraph.co.uk/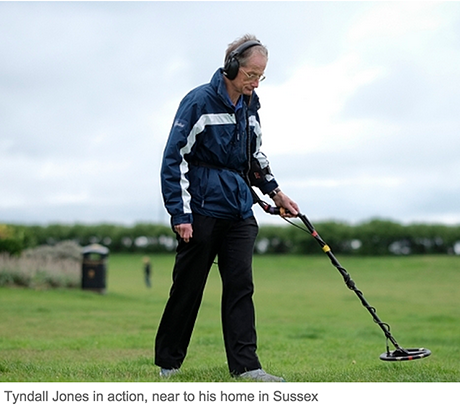 Amateur metal detectorist to be British Museum star after finding priceless relic mistaken for 'coffee pot lid'

An amateur metal detectorist who found priceless 7th century hanging bowl will see his treasure in the British Museum

An amateur metal detectorist who dug up a trinket he believed was a coffee pot lid is to have his once-in-a-lifetime find put on display at the British Museum, after it turned out to be a priceless 7th century hanging bowl.
Tyndall Jones, 66, had been using his metal detector as a hobby for 16 years, turning up many hundreds of curiosities before his big find.
But it was a chance dig at the end of last year which revealed an unusually colourful, ornate metal disc he did not recognise.
The retired shop owner took the item to his local museum in Littlehampton, along with other small discoveries, in case they wished to record them, telling them he did not think they were up to much.
Instead, he said, the resident expert "turned pink and went speechless" before informing him his find was actually centuries old.
Stephanie Smith, Sussex Finds Liaison Officer, then took the object to the British Museum, where curator Julia Farley gathered an astonished group of experts to examine it.
Officially known as an "escutcheon", the ornate metalwork was found to be a copper-alloy Early Medieval hanging bowl mount, thought to have been used in a burial.
Mr Jones has now seen the object in situ at the museum for the first time, where it takes pride of place in the new blockbuster Celts exhibition.
After that, it will be put on permanent display in Littlehampton after Mr Jones and the owner of the land where it was found decided to present it as a gift for free.
The 66-year-old said: "Never in my wildest dreams did I think this could happen.
"I'm just an ordinary chap from Sussex. I enjoy the hobby and I don't do it for any money – I just like the idea of perhaps contributing to increasing knowledge of our history for future generations.
"So to find something that's of national importance and to have it in the British Museum is absolutely beyond anything I could have hoped."
He found the item while metal detecting in a field he had worked on previously, but thought little of it on first inspection.
"It sounds silly, but I'd never seen anything like that before so I guessed it could be the lid of a coffee pot, perhaps Georgian," he said. "I wasn't quite right about that. It's caused a bit of a stir."
Stephanie Smith said: "He's one of the most ethical and selfless finders you could ever hope to work with.
"It's incredibly exciting."
Ed Vaizey, the culture minister, said: "I'd like to thank Tyndall Jones for placing his very special find in the expert hands of the British Museum - it's a wonderful and generous way to share his passion for discovering hidden treasures with the world.
"It's always incredibly exciting when a new or rare artefact is found - treasures of these kind can uncover the missing pieces in our history and help us to preserve those stories for future generations."
Celts: art and identity opens at the British Museum on September 24 and runs until January 31.
It has been awarded four stars by the Telegraph.
Noticias relacionadas
Comenta la noticia desde Facebook
Comentarios
No hay comentarios.
Para escribir un comentario es necesario entrar (si ya es usuario registrado) o registrarse