Mick Aston, ex-Time Team expert, dies aged 66
25/6/13 .- http://www.bbc.co.uk / http://en.wikipedia.org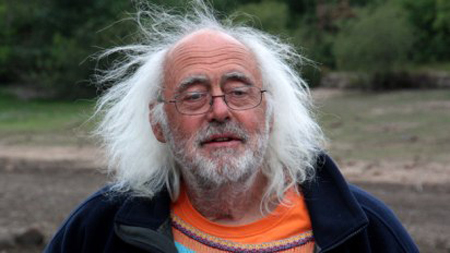 Mick Aston, a former resident academic on Channel 4's Time Team, has died at the age of 66.

He appeared on the show, which sees experts carry out archaeological digs, from its inception in 1994 until 2011.
Professor Aston lived in Somerset and taught at a number of UK universities.
Time Team's official Twitter account tweeted: "It is with a very heavy heart that we've been informed that our dear colleague Mick Aston has passed away. Our thoughts are with his family."
The exact circumstances of the death of Prof Aston, who was born and raised in Oldbury, in the West Midlands, and was known on the show for his colourful jumpers and unruly white hair, are not yet known.

'Unique man'

Close friend and former Time Team colleague Phil Harding said he had received the news from Prof Aston's son, James Aston.
Continue reading the main story
"He had incredible knowledge and an effortless way of making archaeology accessible to people"
Phil Harding Time Team archaeologist
Mr Harding, 62, said that although Prof Aston had suffered health problems, his death had come as a shock.
"It just seems so incredible, like a bad dream, but unfortunately this is no dream," he said.
The archaeologist said Prof Aston was a "unique man" who "everybody loved".
"He just had a way with people. I cannot believe there was anybody who disliked him, he just had such a relaxed way," he said
"He had incredible knowledge and an effortless way of making archaeology accessible to people."
Francis Pryor, who also worked on Time Team, said Prof Aston had been a "remarkable archaeologist who could really dig".
Professor Pryor said: "I will remember him fondly - [he] was a warm, loving, nice man.
"He did very good work on original British towns... and he was an authority on monastic church archaeology and early medieval archaeology."

'Passionate believer'

Prof Aston had appeared as the senior archaeologist in 19 series of the programme, in which specialists carry out an archaeological dig in the space of three days.
"In fact he was partly responsible for its creation after telling Tim Taylor, series producer, that it would be possible to evaluate a site in only three days," a biography on the Time Team website says.
It says he had worked in archaeology for more than 40 years, adding: "Mick had a childhood love of archaeology, despite his school's best attempts to dissuade him."
It adds that Prof Aston was a "passionate believer in communicating archaeology to the public".
Prof Aston studied geography with a subsidiary in archaeology at Birmingham University.
He joined the University of Bristol in 1979, organising and promoting lifelong learning and continuing education in archaeology.

'Dumbed down'

From 1996 to 2004, he was professor of landscape archaeology at the university, later becoming an emeritus professor in the same subject.
The university says on its website that alongside Time Team, Prof Aston worked on a major research project that investigated the origins of the English village at Shapwick, Somerset, and researched monastic and landscape archaeology throughout Europe.
He was also an honorary visiting professor at Exeter, Durham and Worcester universities, and had published a number of books relating to archaeology.
"He loved Time Team and it would be very fitting that they could do one more dig at a location Mick would have loved"
Lee Brady Time Team fan
In July 2012, he received a lifetime achievement award at the British Archaeological Awards, a showcase for the best in UK archaeology.
Mark Horton, professor in archaeology at the university, said at the time that Prof Aston had made "the past accessible to all".
In February 2012, Prof Aston, writing in the Western Daily Press, explained his decision to quit Time Team a year earlier, saying it was because Channel 4 had altered its format and the show had been "dumbed down".
"There is a lot less archaeological content and a lot more pratting about. I was the archaeological consultant but they decided to get rid of half the archaeological team, without consulting me," he wrote.
Time Team fan Lee Brady, who set up a tribute group on social-networking site Facebook, said: "The Time Team crew and Channel 4 should commission a 'one-off' special dig in memory of Mick.
"He loved Time Team and it would be very fitting that they could do one more dig at a location Mick would have loved."
In October last year Channel 4 announced that the 20th series of Time Team would be the show's last.
The final series aired earlier this year but a number of special episodes are planned for next year.

BIOGRAPHY

Aston was born in the town Oldbury in the English Black Country, he attended Oldbury Grammar School and studied geography at the University of Birmingham. At the same time he pursued his interest in archaeology both academically and through fieldwork, finding his vocation as a landscape archaeologist.

Academic work

While researching for a higher degree, he taught at the Extra-Mural Department of the University of Birmingham. When he moved to Oxfordshire to take up a post at the Oxford City and County Museum, he taught many extramural classes for the University of Oxford. From there he moved to Taunton to become the first County Archaeologist for Somerset. Again he taught extramural classes, this time for the University of Bristol. In 1978 he became a full-time tutor in local studies at the Oxford University External Studies Department. Then in 1979 he returned to the West Country as tutor in archaeology at the University of Bristol Extra-Mural Department. He was awarded a personal chair at Bristol University in 1996.

When he retired in 2004, he became an emeritus professor at Bristol University, and an honorary visiting professor at the University of Exeter and the University of Durham. In the same year he was awarded an Honorary D.Litt by the University of Winchester, formerly King Alfred's College. He had long been associated with this college as an external examiner. The archaeology students of King Alfred's also participated in a 10-year project led by Aston to investigate the manor of Shapwick in Somerset. He received an honorary degree from Worcester University on 31 October 2007. His academic colleagues have contributed to a festschrift in his honour, published in 2007.

Following his retirement from academia, Aston continued to return to the universities at Exeter, Durham and Bristol to do occasional teaching.

Aston published many works, particularly on landscape archaeology and monasteries. He was elected a Fellow of the Society of Antiquaries of London in 1976 and was the 21st member of the Institute of Field Archaeologists.

Time Team and television presenting

A fervent supporter of getting the public engaged with archaeology, Aston was known for his work in promoting the discipline through the popular media. This began at Oxford, where Aston had a long-running radio series on Radio Oxford.

In 1988 the producer Tim Taylor invited Aston to work on a new four-episode television series for Channel 4 called Time Signs, broadcast in 1991. They subsequently decided to begin working together on a new archaeology-based television series, devising the format for Time Team. Whilst Taylor was busy sorting out the film production side of the project, Aston found some suitable sites to excavate, and gathered together a team of archaeologists to appear on the show. He knew the actor and television presenter Tony Robinson after they had met on an archaeological course in Greece, and after Aston requested that he join them, Robinson agreed to participate. Time Team was subsequently first broadcast in 1994. Aston acted as chief archaeological adviser to the programme until the end of series 19. In 2008, Aston commented that when it first started he had no idea that the series would go on to run for so many years.

Aston also appeared in several Time Team special programmes, which are documentaries on various topics related to history and archaeology, and in three programmes of another series produced by Tim Taylor called History Hunters, broadcast in 1998. He also devised his own series of six programmes for HTV called Time Traveller 1997. Commenting on the popularity of Time Team, and its role in exposing the British public to archaeology, in a 2010 interview Aston remarked that "My motive was to get as many people as possible interested in archaeology, because we [in the profession] all enjoy it and think it interesting. That was my personal aim… and on that basis I think it is a success."

In February 2012 it was reported that Aston had left Time Team in anger at changes which led to less focus on the archaeology and some archaeologists being axed. In an interview with the magazine British Archaeology Aston said: "The time had come to leave. I never made any money out of it, but a lot of my soul went into it. I feel really, really angry about it."

Publications

Alongside his academic publications, Aston also wrote two books on archaeology for a more general audience, both of which were published by Channel 4 Books as a spin-off from the Time Team television series. The first of these was Time Team's Timechester: A Companion to Archaeology, co-written with Carenza Lewis and Phil Harding and published in 2000. Based around the fictional British town of Timechester, the book looks at how the settlement would have progressed from the Palaeolithic through to the modern day, and examines the remains that each period would have left behind in the archaeological record. This book was followed in 2002 by Archaeology is Rubbish: A Beginner's Guide, which Aston co-wrote with Tony Robinson and dedicated to Harding. Archaeology is Rubbish describes a fictional excavation site in an ordinary suburban back garden, and discusses the evidence from different archaeological periods, the various field methods and techniques used by the excavators, and the legal proceedings and problems that archaeologists in Britain face.

In 2006, Aston began writing a series of articles under the banner of "Mick's Travels" for British Archaeology magazine, the publication of the Council for British Archaeology. Appearing regularly in the bimonthly magazine, Aston discusses the various archaeological sites and monuments that he has visited across the British Isles, dealing with such disparate places as the early Christian monasteries in Glamorgan and the Second World War defences on Jersey.

Publications in Date order

Aston wrote or co-wrote a number of books on the subject of archaeology which have been published in Britain:

* Aston, M. and Bond, J., The Landscape of Towns (1976, reprinted with additions 2000).
* Aston, M. and Lewis, C., The Medieval Archaeology of Wessex (Oxbow, 1994).
* Aston, M. and Taylor, T., The Atlas of Archaeology (1998).
* Aston, Michael (1988). Aspects of the medieval landscape of Somerset. Somerset County Council. ISBN 0-86183-129-2.
* Aston, M., Monasteries (1993), reprinted as Monasteries in the Landscape (2000).
* Aston, M. Mick's Archaeology (2000, revised edn. 2002). His professional autobiography.
* Aston, M., Lewis, C. and Harding, P., Time Team's Timechester (2000).
* Keevil. G., Aston, M. and Hall, T., Monastic Archaeology: papers on the study of medieval monasteries (Oxbow, 2001).
* Robinson, T. and Aston, M., Archaeology is Rubbish - a beginner's guide (2002).
* Aston, M., Interpreting the Landscape from the Air (2002).
* Gerrard, C. with Aston, M., The Shapwick Project, Somerset: A Rural Landscape Explored, Society for Medieval Archaeology Monograph 25 (2007).
Noticias relacionadas
Comenta la noticia desde Facebook
Comentarios
No hay comentarios.
Para escribir un comentario es necesario entrar (si ya es usuario registrado) o registrarse